OIL YOGA COURSES
FEBRUARY 2020
---
Venue : Patnem Garden Cottages
Date: February 1st to February 27th, 2020
Style : Oil Yoga 1st Sequence RAKTA SHUDI – PURIFICATION OF BLOOD
Course fees : 1050 euros TTC
Registration Fees are 420€, not refundable, and deductible from the total course fees.
Registration Fees are confirming your participation to the course.
The remaining amount has to be paid a month prior the course starts.
Food, accommodation and transportations are not  included.
The high season in Goa being between December and January, we recommend to quickly booking your accommodation.
Please check the following links :
For those who can not attend a full course, please check Yoga immersion about Oil Yoga below.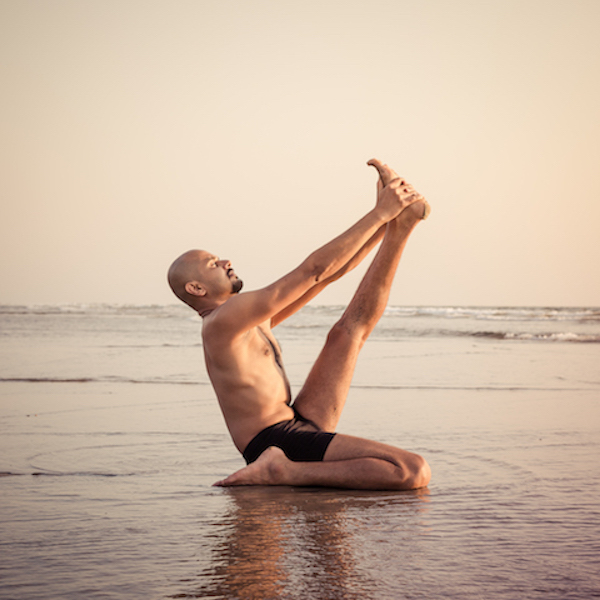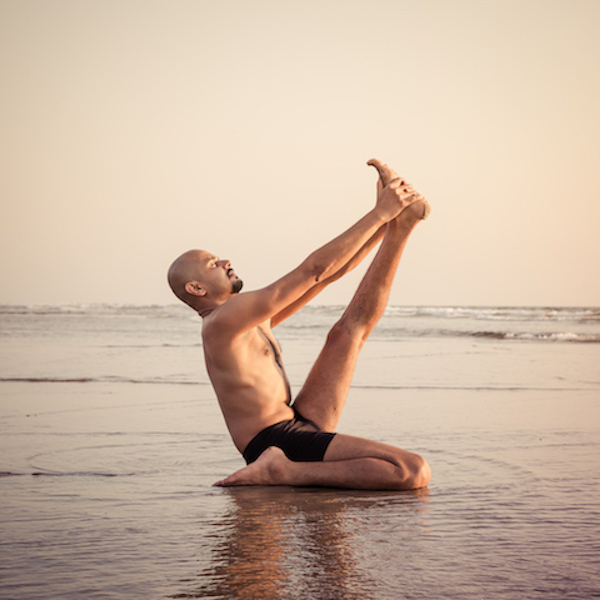 Credit photo@Raphael Pincas
Rakta Shudhi sequence is the base of oil yoga. This sequence focus on circulatory, respiratory and immune systems. Blood purification happens in Lungs, Kidneys, Liver, Lymphatic nodes and Spleen. The heart works as a pump to circulate the blood throughout the body. Arteries carry the oxygenated blood and veins carry the de-oxygenated blood. Entire Rakta Shudhi sequences concentrate keep these organs and blood vessels healthy and in good working condition.
Benefits of Practicing Rakta Shudhi Sequence :
Helpful in removing the toxins from the blood
Strengthens the heart and prevents the heart diseases
Improves the elasticity and functions of blood vessels- Arteries, Veins, and capillaries.
Improves lung capacity and functions
Regulates functions of Liver, Kidneys, and spleen
Lymphatic system will be regulated
Prevents verrucous veins
Prevents skin aging
Improves blood circulation in the body
Improves flexibility of the body
Positive effect on the skin, nervous system and on senses by application of oil
Arambha : means Beginning
          This is the stage were you get introduced to :
Abhyanga- proper application of oil on the body
Asanas-  practice of primary sequences of  "Rakta Shudhi"
Drishti- Practicing different gazing points.
Pranayama- From beginning  to advance level with retention
Kriya- Jalanti, cleansing of nostril and sinus cavities. 
Mediation
Mantra and Asana Name chanting
Vinyasa counts in Sanskrit 
Once you complete this one month course, you will be eligible to attend Teacher training in the same sequence in future which is called as "Nishpatti".
What you get from the course
One Cloth mat.
Two Towels
Asana chart
Oil for everyday practice
Jalaneti pot
Participation certificate which will allow you to participate in further weeks to complete the sequence. If you attend 4 weeks then one month certificate which allow you to teach.
Tentative timetable for Oilyoga course
7.00 – 9.00 – Oil Yoga with Abhyanga (Apllication of oil on the body and giving self massage)
9.00 to 11.00 – Break
11.00 to 12.00 – Asana name chanting, Drishti practice
12.00 to 1.00 PM – Pranayama
3.00 to 4.00 PM – Lecture/ Asana adjustment
The class will begin with 'Abhyanga" self application of oil and giving self massage with the guidance of the teacher. This process will take 15 to 17 minutes. After self massage asanas will be practiced in Vinyasa style. I have attached the pictures of cloths which will be helpful for applying the oil on the body.
As Oilyoga (Snehayoga) has the foundation with drishti (Gazing point) Vinyasa counts,  Breath, later classes during the day will focus on these points.
After lunch we will discuss on some of the philosophical topics and Adjustment of the asanas which are in the first series of Oilyoga.
CHECK THE FOLLOWING YOUTUBE VIDEOS ABOUT OIL YOGA
There are nice accommodation in Patnem. Which will start from 1000 rupees to 5000 rupees. (12 to 60 euros per day)
All of them near to yoga shala walkable distance between 2-10 minutes
Nice restaurants are near to Shala. Price will vary according to your interest in the food.
Approximately 500-700 hundred rupees (5-10 Euros) for three meals.
Patnem is in South Goa, 60 kms from the Airport. It will take 90 minutes maximum to reach Patnem by car.
It will be 1800 Indian rupees (23 Euros)
Preparation to attend Practice
– Whichever style you are practicing presently, Kindly practice regularly.
– Do self massage with coconut oil or Sesame oil or olive oil  once in every week.
– Follow good food habit.
Cloths for Oil Yoga Practice
As practitioner need to do self massage with oil on the body, sports cloths are recommended.  
Kindly bring your yoga mat.