YOGA TEACHER TRAINING COURSE UBUD, BALI
This course is now fully booked. We will back to Ubud at Radiantly Alive on April 2020 !
---
200 Hour Multi Style Yoga Course Ubud, Bali
Date: April 1st to April 25th, 2019
Teachers: Stephanie Viu-Kessler and Yogi Trupta
Venue: Radiantly Alive
Style: Multi Style Yoga – Yoga Alliance US
Course Fees: 1,500€ for a registration paid by December 1st, 2018.
Course Fees: 1,800€ for a registration paid by February 1st, 2019
Course Fees: 2,000€  for a registration paid after February 1st, 2019
The course start on April 1st, 2019 at 06:30AM and concludes on April 25th, 2019 at 06:00PM. This is course is NON RESIDENTIAL.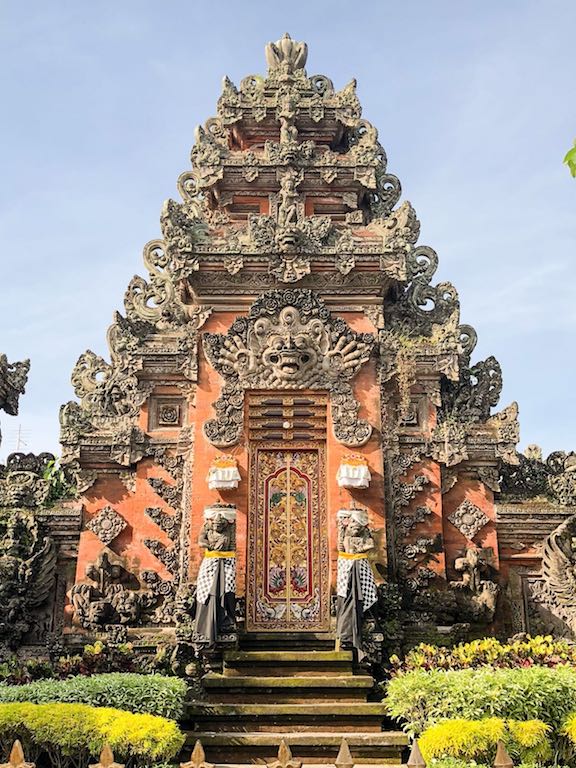 This 200 hours Teacher Training focus on learning and teaching of Hatha Yoga, Vinyasa Yoga and Vinyasa flow. Even though most of the asanas are having the roots from Hatha Yoga tradition, they branched in different styles. This course has been systematically designed to learn and teach Hatha, Vinaysa and Vinyasa flow styles.
Week 1- Hatha Yoga
First week is a solid foundation for entire course by introducing ourself to Hatha Yoga practice. There will be two modules practiced and learnt in detail by the students. Asanas will be held for 9 to 12 breaths. Students will be guided with all information of breathing, alignment and precision to teach asanas in Hatha Yoga Style.
Week 2- Vinyasa Yoga
Vinyasa means "Specific Placement" of Body, Breath and Mind. Vinyasa method of practice has been derived from teachings of Shree Krishnamacharya and Shree Pattabhi Jois.  In the 2nd week students will learn and teach how to connect Asanas in Sun Salutation, Suryanamskara. Asanas will be held for 5 breaths.
Week 3- Vinyasa Flow Yoga
Vinyasa flow is modern approach of practicing Asanas with connecting one asana to another. For example, practitioner will perform Trikonasana and connect with Virabhadrasana. It will be interesting to experience the body movement with different directions.
An overview of entire 200hrs course:
Experience 3 popular styles of yoga
Learn and teach more than 100 asanas in 3 styles
Understanding how to apply yoga philosophy in day today life
How to bring harmony between Body Breath and Mind
Proper way to practice pranayama teachininques
Experiencing different Meditation techniques
Learn how to detoxify with yogic kriyas
Proper way of adopting the Bandhas
Understanding the Yogic and Modern anatomy
How to create Asana Modules
How to teach different levels of the students with modifications
Asana clinic- Adjustment of the asanas
Fourth week of the teacher training course students will lead the class for entire group. Which will be an amazing experience to cultivate the inner teacher.
______________________________________
SCHEDULE:
07:00 – 08:30AM : Asana Practice
08:30 – 10:00AM : Breakfast Break
10:00 – 11:15AM : Philosophy/Anatomy
11:15 – 11:30AM : Break
11:30 – 01:30PM : Asana Clinic
01:30 – 04:30PM : Lunch break and home work
04:30 – 06:00PM : Group Class- Learn to Teach
06:00 – 06:30PM : Break- Tuning to nature
06:30 – 07:30PM : Chanting, Pranayama and Mediation
______________________________________ 
YOGA COURSE PLACE- RADIANTLY ALIVE UBUD, BALI
'Radiantly Alive' is one of the famous destination for yoga practitioners and teachers which is located in the heart of Ubud, Bali. Most of the popular yoga teachers from around the world choose Radiantly Alive to host their courses and workshops because of its natural beauty and hospitality of the people.
Students can use the facility of Mats, blocks, bolsters and belts during the training.
Ubud can be called as heart of Bali with beautiful temples, local markets, rice fields, and royal places. In this place one can feel the modern world blending with the ancient cultural roots.
There are many nice accommodations in walkable distance to Yoga Shala which will give plenty of option to choose according to the budget. One can enjoy the delicious food from near by restaurants which will provide many options such as vegan, vegetarian, gluten free menus.
Weather : During April month it will be 28 to 34 degree of temperature can be felt. Some times it will be hot and humid. We advice our  students to keep their body hydrated with fluids such as water, coconut water and juices.
Visa : 
a) On arrival for 30 days can't be renewed.
b) Visa on Arrival 30 USD, can be renewed with an immigration agent directly from Ubud. Please note that for this you will need a day off to go to Denpasar.
c) From Indonesian embassy in your country for 60 days visa
______________________________________ 
______________________________________
REGISTRATION
In order to register please fill the Registration Form and I will get back to you.
As a general rule a participation is confirmed after the deposit of 350€. The remaining amount of the course has to be paid two months before the course starts.
Looking forward to practice with you!